Antique Restoration Furniture Restoring Sculpture Conservation Mirror Frame Repair Painting Renovation Fine Cleaning Art NYC 10028 Manhattan
Fix Services Care Touch up Gilt Gilding Finish French Polish Polishing Shellac Wax Professional Treatments Old Scratched Doctor
HOME PAGE Call us: (for free estimate please send the picture) 646 221 3712 saccadik@gmail.com
ASIAN ANTIQUE Restoration, CHINESE FURNITURE Repair
Antique Chinese Huanghuali Finishing, Cage Cabinet, Bench Regluing, Antique Chinese wood carved panel, Buddha Fixing, Chinese Brown Coromandel Screen, Chinese 16th century wood panel with enamel and gilding.
Call us:
646 221 3712
saccadik@gmail.com



DARIUS Gubala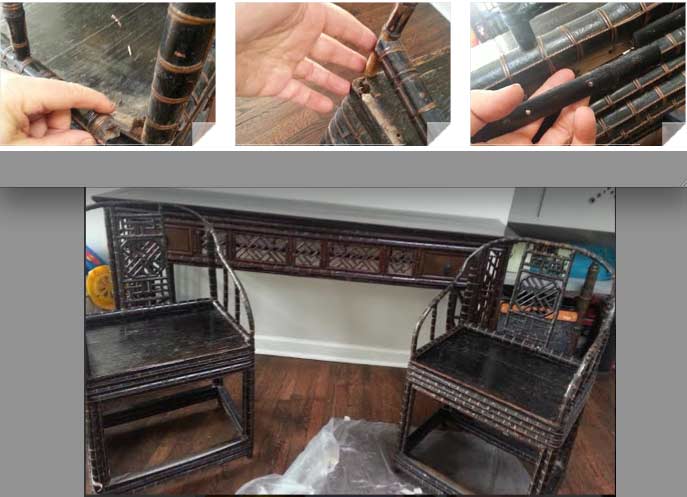 Type of Object:
Old pieces (300 years) of chinese furniture. 2 chairs and an altar table.
Damage: They need some repairs where the arms or legs are starting to loosen and come out of their holes, and a general clean / wax
Treatment: general clean / wax cat, gluing, filing, retach, polish (in your home)
The cost of repair is: $2 000.
...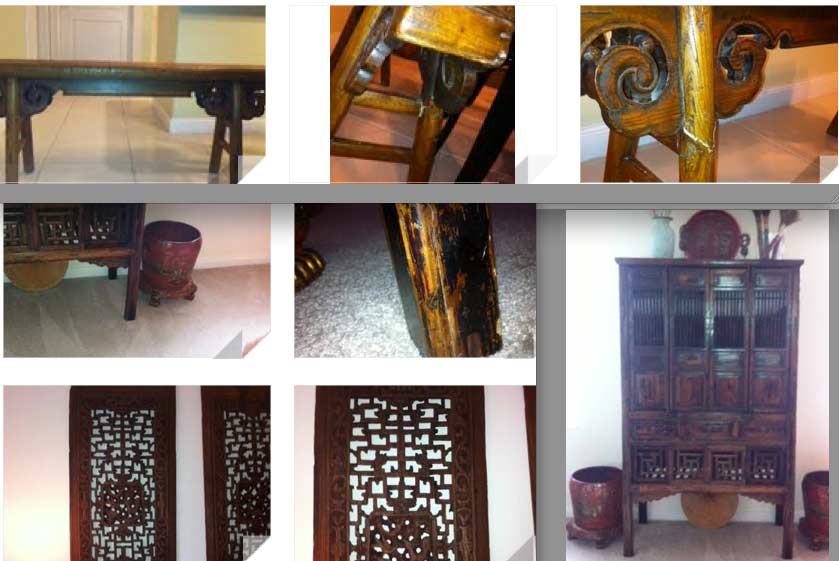 1: Antique Chinese Huanghuali wood cabinet, and the inner shelf is missing on the inside. I need the shelf built and stained of old wood to match.
Damage: the inner shelf is missing on the inside. I need the shelf built and stained of old wood to match
Treatment: serch wood, cat, gluing, filing, retach, polish
The cost of repair is: 1200 Charge for picking it up $100 and delivering it back $1000
2: Antique Chinese Cage Cabinet. Inside/ back of front right leg
Damage: front leg is split at the bottom.
Treatment: cat, gluing, filing, retach, polish
The cost of repair is: 300
3: Antique bench leg
Damage: leg is split at the bottom.
Treatment: cat, gluing, filing, retach, polish
The cost of repair is: 300

6: Antique Chinese wood carved panel,
Damage: One of six, is damaged inside the carvings, split down the right side in the carving
Treatment: carvings, gluing, filing, retach, polish
The cost of repair is: I need to see close up
7: An intricate hand carved Antique Huanghuali display wood stand. Broken piece from the carving around the edge.
Damage: wood split
Treatment: cat, gluing, filing, retach, polish
The cost of repair is: 40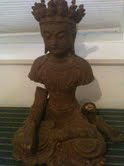 Type of Object: Antique Cast Buddha. Damage: loose sculptures of four parts.

Treatment: hidden inside a solid structure, cleaning, retaching
***
Chinese 16th century wood panel with enamel and gild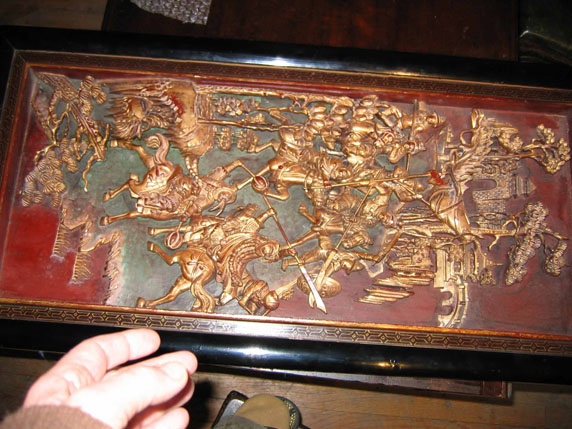 ***
ANTIQUE Chinese Brown Coromandel Screen China early 19th C.
Eight panel brown lacquered Coromandel Screen
depicting palace scene on front and different outdoors scenes on the reverse has great mellow worn and weathered look each panel measures 16 inches wide
Measurements Height: 84 3/4 Depth: ½ Width/Length: 10 ft



.
Specifications Number of items: 1 Materials/Techniques: carved wood clay and lacquer
Condition very good antique condition with overall wear some splits to wood and losses to lacquered surface with numerous old repairs
The legs are all chipped off ( that is the part that they want to fix the most)
Some hinges are loose paint is chipping off everywhere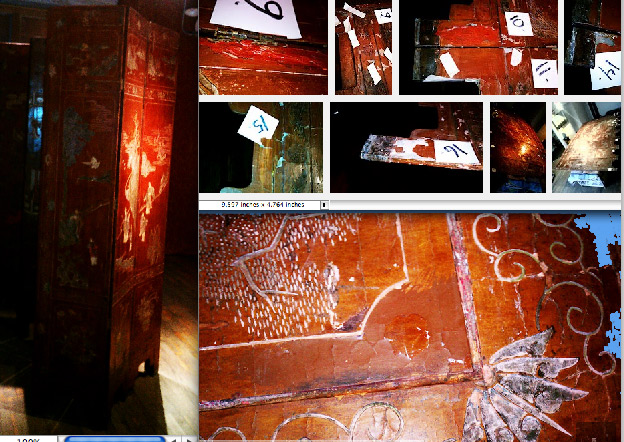 1. I understand -to make sure that you don't paint over with new lacquer/paint all over
2. I seal the whole screen so that it preserves it and keep it from continuing to fall apart
3. I touch up -were paint is chipped you
4, Ok "natural" finish. Not matte or shiny
5. I Hinges need to be fixed understand screen will be hung on the wall



Please note: our minimum fee on any restoration project is $400USD
asian antique
asian antique restoration
antique asian restoration
antique japanese restoration