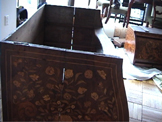 Antique, Furniture, Restoration, Armoire consisting of 3 segments.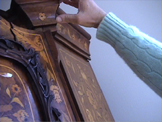 The client is showing a loosened corner of the furniture on the picture.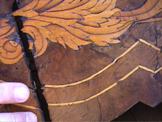 I split the furniture in two halves and it fitted.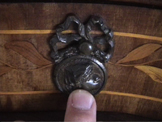 Bronze has unique gold patina. Patina is not mad presently due to environmental protection. When cleaning bronze, must be careful not to scratch off old gold patina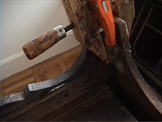 In the back, with 2 pegs in place, there had been just one supporting piece of wood upholding the construction of the back closet. In order not to use fresh wood, I split the peg in 2 parts.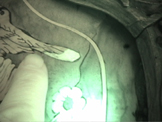 Night vision camera helps to determine it there has not been corrective treatment of the furniture.
French Polish, NYC, Manhattan, Elite, 5 Ave, Park Ave, Conservation, old master, Museum, historical value, Art, repair, restore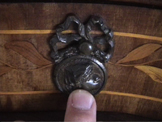 After cleaning metal, it takes on a three-dimensional form. One gets the sensation bronze, not look plastic. When cleaning bronze, without gold patina, one should save 90% old patina.